How to Renew your Passport? Adult & Child Passport Renewal UK
Passport Renewal
When you have plans to travel abroad, you will need your passport. But what if your passport has expired? You will need to apply for your UK passport renewal.
Moreover, it would be best if you had a brief idea of "How to renew a passport?", "What do you need to renew your passport?", "How long does it take to renew a passport?" and "How much to renew a passport?".
Here in this guide, you'll get answers to all your questions on Passport Renewal. Whether you need to renew a child passport or an adult passport renewal, this guide will help you renew the passport.
UK Passport Renewal
As the summer or your vacation starts, you think of going for a trip abroad. But, at the same time, it is essential to check if you have a valid passport.
What if the passport has expired? You have to renew your passport so that you don't have to face any trouble later.
Below, we have provided the details about UK passport renewal to help you with the process, how to apply, how much it costs, and how long it takes.
When should you Renew your Passport?
You can apply for passport renewal before your travel, assuming all things considered:
if your passport has expired, or
if the expiry date is nearer
4 Simple Steps to Renew Passport Online
Get a digital passport photo
Apply online over the gov.uk website
Pay your passport renewal fee through a debit or credit card
Send your old passport by post
How much does it Cost to Renew a Passport?
The passport renewal cost varies depending on the number of pages and your age, and how you apply. If you are applying for UK or British passport renewal online, it costs £75.50, and through the postal service, it can cost you £85.
Adult passport renewal fee
For an adult, i.e., 16 years or over
If you are applying for adult passport renewal online, the cost to renew or replace a passport is £75.50.
If you fill out the form offline by going to a Post Office, it will cost £85.
Child passport renewal fee
For a child, i.e., below 16 years
If you apply for child passport renewal online, the cost to renew or replace a passport is £49.
If you fill out the form offline by going to a Post Office, it will cost £58.50.
Note: A child passport is valid for five years only.
How long does it take to Renew a Passport?
Passport renewal may take up to 10 weeks. It may even go longer if you apply offline by post.
Whereas, if you want your passport renewal urgently, you can try out the following options:
Online Premium
In this case, you will get your passport at the appointment itself. The appointment usually is 30 minutes long. However, you will get the appointment after 2 days of application. The cost associated with Online Premium Service is £177.
1-week Fast Track
With the help of this service, you will receive your renewed passport urgently in a week once the appointment is set. Since you will be receiving it from a courier, someone should be at home to collect it. This service costs £142 for an adult and £122 for a child.
You may use this option for:
Renewal of child and adult passport
Bring change in the passport details
Replacement of lost or stolen passport
Apply for your 1st child passport or kid passport
In some cases, the passport may even come to the post office. You may call the passport advice line for better assistance.
How to Apply for Urgent Passport Renewal?
If you want urgent passport renewal, initially, you will need to book the passport office appointment. You can choose to do it in advance. However, if your passport is damaged, you won't get the fast-track renewal of your passport.
Certain countries require passport validity to be at least six months. Such destinations include the United States, China, Canada, Mexico, Thailand, Singapore, and Brazil.
Before you book your international travel, you should check with the country's embassy or consulate and the foreign office department of state for advice. They may help you understand if there are any specific requirements for entry into the destination country.
If you have got all your bookings done, but there isn't much time for your passport left, you should not worry.
Apply for Urgent Passport Renewal and get it renewed as soon as possible.
Supporting Documents for Passport Renewal UK
When you apply for a passport renewal under the open government licence, you must offer two identical passport photos. It would be best to be very precise with your pictures while providing them. To apply for a passport online, you will require digital passport photos.
Digital passport photos rule
Your digital photo must fulfil the following requirements:
It must be a colour photo
It must be without any red-eye
No effects or filters were applied to the photo
Its pixel size must be at least 600*750
Note: The minimum size of the image must be 50kb and should not exceed 10MB
Digital passport photo do's and don'ts: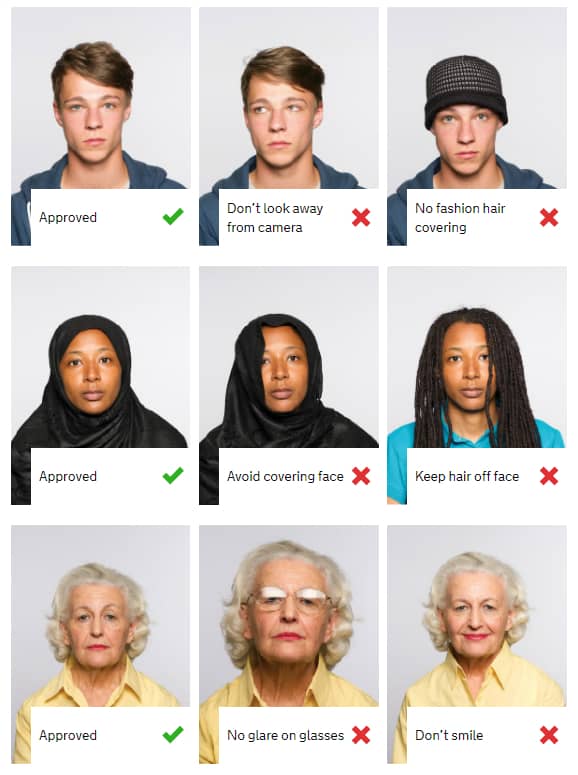 More details
Apart from it, you should also produce certain documents such as a birth certificate. However, if you are confused, you can consult the passport office for better convenience.
Do you need a Countersignature for Passport Renewal
In some cases, your application form, as well as photos, will need a countersignature.
Countersignature refers to the signature from someone else to prove your identity. As per the government rules, you will need countersignature on your applications in the following cases.
Applying for a first child passport
Applying for a first adult passport
Passport renewal for Kids below the age of 11
Applying for a passport replacement for lost or stolen cases
Applying for renewal owing to a change in appearance due to which the person cannot be recognised from the old passport.
The one who is doing the countersignature for you should be:
Known for a minimum of two years
Able to recognise you
Belong to a job recognised position
Or if someone is doing the countersignature for you, they should be related to you by blood. In some instances, the countersignature becomes necessary since it is valid proof that all the details are correct.
UK passport renewal for Adults
The UK government allows citizens to change details and apply for UK passport renewal. You can even choose to replace the adult passport. In this case, the passport renewal process usually takes 10 weeks.
However, the processing time may increase if you have not correctly signed the form. Therefore, it is necessary to check and send accurately. You can also choose to apply for UK passport renewal with an online application, and the price increases in that case.
If you have provided an online application, you can track the passport renewal application online. But if you apply for passport renewal from post office services offline, you can track them after 10 weeks.
You can also apply for a passport renewal if it is lost or stolen. The new passport will reach your address by courier. The process for delivery of the passport usually varies.
You may either receive it in your letterbox or at home. Most of the time, you will be informed of how to get hold of your passport.
Don't have a passport? Apply for a new passport
If you don't have a passport, you must first apply for a new passport. The passport fees are different for adults and children.
Make sure to fill up the application form and wait for the processing time to get the passport.
The passport price in the UK is free for people born before 2 September 1929.
However, if you apply for the passport offline, you may need to pay an additional £9.50.
Passport Check and Send Service
The passport offices often check your documents and applications before forwarding them. This helps to ensure the correct sections have been filled. It's referred to as passport check and service.
This will only be applicable if the paper application is filled up thoroughly. After checking, your passport is forwarded to the passport office. This process is faster than sending out your application by yourself. However, if you opt for this procedure, you will need to pay some extra fees.
You can visit gov.uk for further details regarding your passport renewal.
I hope you enjoyed reading the article on "Passport Renewal" and it answers all your questions about "Passport Renewal".
You might also enjoy reading the articles below:
If your flight delays for more than 3 hours, or was cancelled, you may be eligible for compensation up to €600 based on EU 261 rule.
Check For Free
We offer "No Win - No Fee" Services, so claiming is Risk-Free!
Updated on March 25, 2020 at 11:03 amCOVID-19: European Commission Guidelines on EU passenger rights In efforts to mitigate the economic impacts of the COVID-19 pandemic, the European Commission has published guidelines to ensure EU...
We help in many languages - ClaimFlights International Websites