8 Things You Need To Know Before You Fly With Your Dog
A long vacation for your refreshment, while thinking of flying with your dog. It is probably when you should think twice before you leave for a trip. Including your dog while travelling restricts your way to be more open with options. So it is very normal to consider whether flying with your dog is the best option for you or not.
However, air travel is a good option while travelling with dogs, cats or any pet. Because air travel is pretty much the best option instead of spending hours on road trips.
Here are some airline companies such as British Airways, Virgin Atlantic, KLM, Lufthansa which allows you to travel with a dog. Some low-cost airlines such as Easyjet, Ryanair, and Jet2.com only allows service animals (Assistance dogs).
Service animals or assistance dogs are those who trained to perform tasks that assist disabled people.
So while considering flying as an option, a dog-friendly environment should be a major concern. However, the air concerns, it is not free of hazards and complexities.
Therefore, if you are not sure whether you should fly with your pet or not, here are what you should consider before you commence the trip:
1. Assess health meter while flying with your dog
On the off chance that your pet is physically drained or harmed. Or, has any condition that will make flying hard for him. If you have decided to take your dog with you, don't leave him alone. It is ideal to let it stay at home with a pet sitter or delay your trip until it becomes healthy.
2. Does your cabin allow dogs?
While booking your flight, do not forget to check the airline's pet carrier policy. Will they allow traveling in the cabin along with dogs.
Generally, when your dog weighs less than 20 pounds and fits easily under the seat securely including kennel, you can carry them with you on the plane. However, just make sure your dog does not feel confined within it and bark which might disturb others.
3. Check whether your dog is brachycephalic
Brachycephalic pets are those, which have short and snub noses. For example, you can think of Persian felines, pugs and bulldogs. These are very accustomed to breathing issues, and find it harder to balance weight and air changes amid flight.
In case, you are a pug or Persian owner then it is better to talk to your airline company first. Because you might find some airlines that do not allow such pets.
4. Can your dog adjust with air travel?
Shyness, being afraid of crowds, aggressiveness, and anxiousness about new situations in dogs are what should be considered. In that case, it is better if you leave your pet behind with a pet sitter, trusted friend or your family.
It is better for your dog's health as well that it stays in a comfortable place and get care. Make sure that there is enough food and water in his crate. In addition, in some way, it is better for you as well, as you can enjoy your trip without being worried about the whole time.
5. Can you take a dog on a plane cargo?
Checking your dog as cargo is usually harder than carrying with you. It likewise conveys some extra hazards, as harm and damage are likely to happen.
Each plane is unique and highlights diverse cargo territory conditions and weight limits. Likewise, each airline has diverse methods for managing dogs.
Usually, luggage handlers tie pet cases in a climate-controlled compartment of the cargo territory – typically directly beneath the traveler region. 
A few aircraft wrap the case with perforated air-padded rolls, while others do not.
However, in the climate-controlled compartment of the cargo territory, the temperatures can change in times. Usually, amid average climate, temperatures will, in general, remain in a range, which will be ok for your dog. 
But if your dog is especially delicate to temperature or weight, or has breathing issues; the cargo territory won't be a safe option. Yet one thing you do not need to stress over is weight. Each compartment of each plane is practiced for wellbeing.
6. Does your dog need a certificate while flying?
If you are coming to the UK from any other EU state or non-EU country, you'll need to have an EU pet passport.
Each airline expects travellers to show a legitimate pet health certificate sanctioned by an authorized veterinarian for any pets that will be checked in as luggage. 
A few carriers will acknowledge health certificate submitted within 30 days of traveling, while others expect them to be submitted within 10 days. It is smarter to be cautious and check your pet out 10 days before your trip.
In case your dog is going in the cabin, you might not require to carry a health certificate (yet better to clear it out with your airline). That being specified, most regions need that pets crossing the borders have evidence of lastly updated vaccines and substantial, latest health certificates.
To be erring on the side of caution, it is most likely the best option to get a recent health certificate for your dog while traveling by air, regardless of whether the airline does not explicitly require one.
7. Are you taking a direct flight while traveling with a dog?
Layovers escalate the odds of something happening not good with your pet. Taking a non-stop flight will lessen the likelihood of inconveniences and limit weight on your pet.
While traveling, what your dog and you need, you know the best. So you are the best one to choose whether flying is the correct decision or not. Prep your dog for the flight and guide dogs.
Regardless of whether you take to the skies or hit the ground, dependably pursue conventional pet-friendly rules to guarantee that your dog has a cheerful, sound and fun trek. So enjoy your next trip while traveling with your dog.
If your flight delays for more than 3 hours, or was cancelled, you may be eligible for compensation up to €600 based on EU 261 rule.
Check For Free
We offer "No Win - No Fee" Services, so claiming is Risk-Free!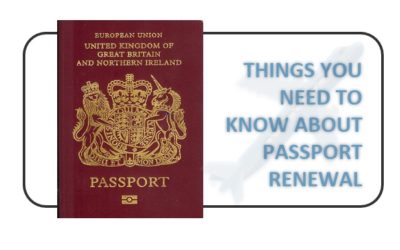 Passport Renewal When you have plans to travel abroad, you will need your passport. But what if your passport has expired? You will need to apply for your UK passport renewal. Moreover, it would be best if you had a brief idea of "How to...
We help in many languages - ClaimFlights International Websites