The Ultimate Check List for a Stress Free Holiday
Organising a vacation often requires a little more preparation than packing your case and driving to the airport. Here are the most important to do's when planning a trip abroad.
1. Validity of travel documents
Check all of your travel documents to make sure that they are still valid. When travelling beyond the borders of the EU, you will have to show your passport, which of course shouldn't have expired. Also note that some countries require the passport to be valid for a longer amount of time than your actual stay. It is recommended that you check the validity of your passport at least three months before your trip as applying for and the processing of a new passport can take up to 12 weeks.
There is nothing worse than having to cancel your trip because you didn't apply for a visa in time. Therefore, it is vital that travellers check the visa requirements of the country they are travelling to. You can check visa requirements on the website of your local foreign office.
Prevention is better than cure. You will find all recommended vaccinations and other preventive measures for the country of destination on the website of your local foreign office. The measures you should take depend on the country you are travelling to, the length of your stay, the season and your individual medical requirements. It is also very important that you inform yourself well in advance of your trip, preferably at least eight weeks prior to your trip, as some vaccinations involve a second trip to the doctors.
This one might not be quite as important as a valid visa but you shouldn't underestimate how annoying malfunctioning cases and bags can be. If you leave packing your case until the very last minute and then realise that the zip on your only suitcase is broken or there's a gaping hole in your bag, it can start to get extremely stressful.
It is also important to bear in mind that your luggage is probably going to be thrown around while being loaded and unloaded, which is all the more reason to check that your luggage is fit for transport. Although most people only pack the final pieces of clothing a couple of hours before they set off to the airport, it is definitely wiser to check your baggage a couple of days prior to your journey.
Love them or hate them, depending on your endeavour, you could benefit from one of these. A good travel guide can be of particularly good use to those who chose against a package deal, opting for a more adventurous and unpredictable holiday.
If you've never visited your holiday destination before, the chances are, without proper preparation, you'll miss a couple of the best sights or restaurants. Nowadays most people rely on their high speed internet for quick queries and research but unfortunately, a quick google for information is not always possible.
You don't have to plan your trip with military precision, but a spot of research can go a long way and can also help you to get the most out of your vacation time.
6. Transfers and day trips
Most tourist hotels offer a great deal of information about day trips, activities, airport transfers and transportation in general, but you can often save a great deal of time and money if you look into such things before you reach your destination. Additionally, when planning day trips and transfers from home, you'll find that you have a lot more choice than you would receive at the hotel.
In case you don't yet own a credit card, you should certainly consider applying for one before your next trip. You never know exactly how much money you are going to need during your break and a well-prepared traveller should make allowances for the unpredictable.
Using your normal bank card might be an option in some countries; however you might find that you end up paying horrifically high fees for each cash withdrawal you make. Should you be travelling to the US, you will find that the credit card is the most common form of payment.
Other options include organising a certain amount of cash in the foreign currency before you leave home or even traveller's cheques. Whichever you decide upon, the best advice is to never put all of your eggs in one basket i.e. always have an alternative means of payment with you, just in case something doesn't quite go according to plan.
If your flight delays for more than 3 hours, or was cancelled, you may be eligible for compensation up to €600 based on EU 261 rule.
Check For Free
We offer "No Win - No Fee" Services, so claiming is Risk-Free!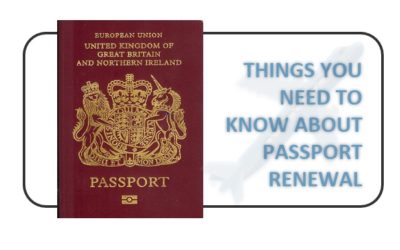 Passport Renewal When you have plans to travel abroad, you will need your passport. But what if your passport has expired? You will need to apply for your UK passport renewal. Moreover, it would be best if you had a brief idea of "How to...
We help in many languages - ClaimFlights International Websites