The Best and Coolest Travel Help Sites
Life often springs surprises on you but only some of them are pleasant. A recent pleasant surprise for me was in form of a bank transfer of $900 in my account remitted by a foreign airline company.
While I was wondering and amused, it struck me that it was the airline which ferried me and Jeff from Paris to New York a couple of months back. It also reminded me of Jeff, my temporary young assistant and a computer geek, who is now off to another town to complete his college degree.
About myself, I am Tom Peacock a professional freelance photographer, moderately acknowledged in my field. I have to frequently travel to different parts of the world and meet variety of people in course of my professional assignments.
Jeff happens to be son of my longtime friend and neighbor who runs a travel agency and I am one of his regular customers. Jeff is in his twenties pursuing his college degree and photography is his hobby.
Jeff loves to travel and expressed his desire to assist in my work during his vacations to which I willingly agreed. The deal was that I would pay for his travel expenses and he would assist me in return.
The entire credit for the $900 mentioned above goes to Jeff who claimed for compensation for delayed flight through Claim Flights. I was unaware of any compensation payable to passengers for the unreasonable delays (beyond 3 hours) in flight schedules in Europe.
I remember that we waited for four hours at Heathrow that day as flight was delayed. Next day, Jeff made the claim through this website by punching elementary ticket travel details. He posted me about this claim but I was non-committal then and did not expect any outcome from the exercise.
After having received this compensation, I would like to write about some other travel apps which have been shared to me by Jeff for the benefit of all travelers.
It will be worth mentioning here that Jeff had also helped his father install and use new travel software FarePlay from Celigra which was of immense help to their travel business. This new generation intelligent software, useful for all travel agents, big or small, gives the real time bookable seats at lowest rates for even most complex itineraries across continents.
Another useful travel website brought to my knowledge by Jeff, being used regularly by me now, is fairfly.com. This business specializes in saving money for air passengers. I book the flight in advance as per my schedule in any airline and post there. In case, the airline offers further discount before the departure date (around 70% do it anyway); the website tracks it for me, books my ticket on discounted price and cancels my earlier ticket! Simple but saves me handsome money very often.
Being a traveler with limited expense budget, I am accustomed to compromise on luxury during my hotel stays and opt for rooms with basic amenities. One website which is focused on enhancing customer's comfort at the same expense is Triprebel.com.
Jeff booked one standard double bed room for our stay for three days in a hotel at New Jersey through this site in course of our travel photography assignment. I had earlier been guest of this hotel a couple of times. When we reached, I was surprised on being offered a deluxe room with complimentary breakfast everyday instead of standard one, at the same price!!! This website keeps tab on discount deals offered by hotels and arranges for up gradation by clinching the deals at opportune time.
Another accommodation availability website suggested by Jeff, homestay.com was refreshingly different for compulsive travelers like me who are interested in knowing the local culture and lifestyles. This website allows you to browse and select the accommodation offered by the local hosts in their homes, which besides saving your money, also provide precious insight to the local culture.
It saves lots of cash for people who plan to have a long stay of week or more at the place. The hosts usually provide the details of the facilities offered by them, usually along with some photographs and indicative prices. The interested traveler can directly contact the hosts and discuss prices, mutually suitable dates etc.
Jeff used foursquare which is a social networking platform that keeps you connected from your friends and relatives during travel and also provides you useful details about the place you are in. The feedback of the hotels, restaurants, their ratings, trivia about the place etc. visited earlier by your connected friends and experts are available on your fingertips.
The Website has app for different purposes which may sound amusing but are helpful in obscure situations. During our trip to Sweden, one co-passenger middle-aged lady was looking extremely nervous while seated at the airport lounge beside us.
Jeff enquired casually if she needed some help. She mumbled that she is always tense before flying and was worried about the safety. Jeff took out his smart phone and connected to an app (gizmodo.com), put in the flight details and pat came the probability of the flight crashing in midair.
When the scientifically derived figure which factors aircraft model, local weather and other variables in its calculations reveals that the odds of mishap to this flight are 1 in 2763567; a sense of reassurance sets in and you board the flight confidently.
I feel thankful to Jeff for making me familiar to these easily accessible tools available in the web domain which saved money and added convenience in my tours. I hope that my experience with travel apps is helpful to other travelers as well.
If your flight delays for more than 3 hours, or was cancelled, you may be eligible for compensation up to €600 based on EU 261 rule.
Check For Free
We offer "No Win - No Fee" Services, so claiming is Risk-Free!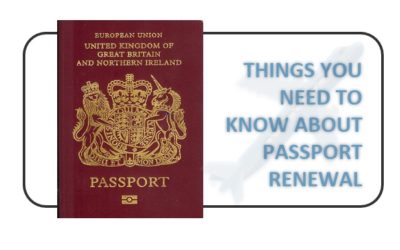 Passport Renewal When you have plans to travel abroad, you will need your passport. But what if your passport has expired? You will need to apply for your UK passport renewal. Moreover, it would be best if you had a brief idea of "How to...
We help in many languages - ClaimFlights International Websites